Authorized Distributor of Epson Robots
ROBOTICS AUTOMATION SOLUTIONS FOR MANUFACTURING
Motion Ai has signed a partnership agreement to become an official authorized distributor of Epson Robots automation solutions. As a nationwide supplier of motion control products and premier custom solutions, Motion Ai supports manufacturers with all their automation needs. The Epson partnership brings easy-to-integrate, value-added solutions to meet the automation requirements of Motion Ai's customers.   The complete roster of Epson Robots automation products, including the extensive SCARA portfolio, 6-Axis robots, and All-in-One robots, are now available from Motion Ai's Central and Southeast regions.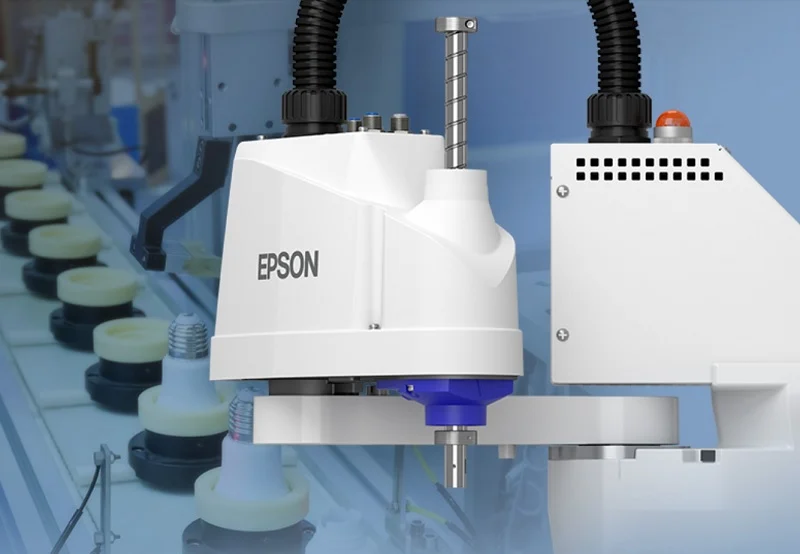 Epson Robots are extremely versatile and provide a wide range of automation possibilities including assembly, dispensing, grinding, inspection, kitting/tray loading, lab analysis and testing, machine tending, material removal/surface finishing, packaging, palletizing, part transfer/material handling, pick and place, screw driving, and more!
Epson Robots is a leading supplier to a wide variety of manufacturing industries including automotive, medical, electronics, consumer products, industrial, and many more. Their customers range from large Fortune 100 companies to small manufacturing facilities.
SCARA Robots
Providing customers with the power of choice has made Epson the #1 SCARA Robot manufacturer in the world. With more than 300 models, Epson has the right robot for your application.
6-Axis Robots
Compact, high-performance 6-Axis Robots offer outstanding flexibility and reliability. With a unique SlimLine design and reduced footprint, Epson's 6-Axis Robots are able to work in tight spaces like never before.
All-in-One Series Robots
With a space-saving design, ease of use, and a built-in controller, Epson 6-Axis and SCARA All-in-One robots are a convenient, ultra low cost way to bring automation to your factory.
Epson is a global technology leader dedicated to co-creating sustainability and enriching communities by leveraging its efficient, compact, and precision technologies and digital technologies to connect people, things, and information. The company is focused on solving societal issues through innovations in home and office printing, commercial and industrial printing, manufacturing, visual and lifestyle. Epson's goal is to become carbon negative and eliminate use of exhaustible underground resources such as oil and metal by 2050. Led by the Japan-based Seiko Epson Corporation, the worldwide Epson Group generates annual sales of around JPY 1 trillion (global.epson.com). Epson America, Inc., based in Los Alamitos, Calif., is Epson's regional headquarters for the U.S., Canada, and Latin America. To learn more about Epson, please visit: epson.com. 
Epson Robots available from Motion Ai in FL, GA, IA, KS, MN, MO, NC, ND, NE, SC, SD, TX, VA and WI.
PUT YOUR AUTOMATION SOLUTION IN MOTION