INDUSTRIAL AND COLLABORATIVE ROBOTICS
Robots have become a vital component of automation in the 21st century. Traditional robots can operate independently in environments that are dangerously hot, require heavy lifting, or are otherwise hazardous to workers, while collaborative robots (cobots) can operate in coordination with human workers. Regardless of the industry or the application, robotic solutions can drastically increase production output while improving the working conditions and safety of your employees.
Robotic automation can:
Improve speed to market

Scale and adapt to changing demands

Provide consistent quality

Maintain low price points

Rapidly increase ROI

 
Collaborative Robots (Cobots)
Collaborative robots can work almost anywhere and automate almost anything. Cobots improve the safety and speed of human workers by working closely alongside them in production lines.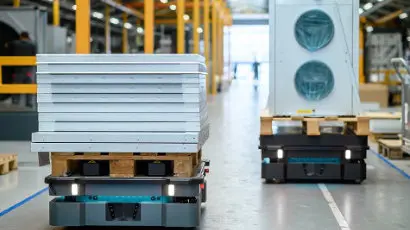 Mobile Robots
Bring your internal logistics up to speed with autonomous mobile robots that automate repetitive and injury-prone material transportation and work safely alongside your employees to boost productivity.
End of Arm Tooling
Whether you need electric or pneumatic grippers, a vacuum tool, or a custom solution, Motion Ai has the end-of-arm tooling to make your robot application a success.
Articulated Robots
With 5 and 6 axis options, articulated robots provide superior range of motion and flexibility. They are designed to move like human arms, making them ideal for assembly and manufacturing applications.
SCARA Robots
4-axis SCARA robots create a circular work envelope that makes them ideal for packaging, stacking, assembly, and palletizing applications. They offer high speed, precision, and repeatability for heavy payloads.
Cartesian Robots
Cartesian robots operate on rectilinear two- or three-dimensional coordinates. Their rigid structure and straight-line movement allow them to precisely and quickly move heavy payloads over long strokes.
Delta Robots
Delta robots have a parallelogram arm design with universal joints at the base. Their high speed and acceleration capabilities make them ideal for high-speed picking and packaging of many types of products.
Flexible Feeders
Flexible feeders gently and reliably feed small and delicate parts to robotic arms in assembly and manufacturing applications. They effectively pick, place, and recirculate parts for consistent use.
Robotics Software
Program, control, and fine-tune your robotics solutions with a variety of software platforms. Create a set of coded instructions that are usable across multiple robotics products, applications, and industries.
Robot Safety is Vital in the Workplace
Safety and efficiency—there are no greater reasons to invest in collaborative robots (cobots). Manufacturers deploy lines of these smart robots because they are safer to work with and can increase efficiency when working side by side with human counterparts on repetitive tasks.
Download the white paper today
.
FILL OUT THE FORM TO
SPEAK WITH A Specialist TODAY
"*" indicates required fields
FIND YOUR ROBOTICS SOLUTION