THK is a key manufacturer of linear motion, LM Guides, linear bearing, linear guide, ball splines, ball screws, electric actuators, and mechatronics products.
THK Co., Ltd. offers machine elements and modules in the field of mechanical engineering, robotics and automation. Their creative ideas and unique technology made the company worldwide pioneers in the development of the Linear Motion (LM) Guide mechanism. Today, their LM Guide devices are an indispensable component of mechanical and electronic systems in a wide variety of industries.
THK has also developed many other unique mechanical components, including the Ball Spline, Ball Screws and Link Balls.
THK serves the following industries:
Machine tools
Semiconductor and LCD manufacturing equipment
Industrial robots
Transport systems
Construction
Aerospace
Medical and assistive
Dyeing machines
Stone cutting
Foam polystyrene processing machines for casting
Linear Motion System - LM Guide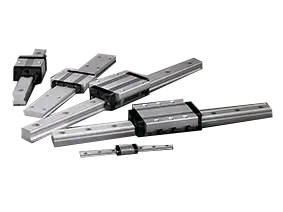 Feed Screw - Linear Motion System -Ball Screw
Linear Motion System - LM Guide Actuator
Rotation - Cross-Roller Ring
Downloads
Videos
Technical Documents
LET US HELP YOU FIND THE RIGHT SOLUTION FOR YOUR AUTOMATION NEEDS.
Mouse over a red-shaded state to get contact information for your local region.
PUT YOUR AUTOMATION SOLUTION IN MOTION