Yaskawa is the leading global manufacturer of variable frequency drives, servo systems, machine controllers, and industrial robots.
Yaskawa is a world leader in variable frequency drives, servo systems, machine controllers, and industrial robotics. Their conventional products, as well as custom-tailored solutions, are well-known and have a strong reputation for quality and dependability.
Yaskawa products include:
AC Motors
Elevator Drives
HMI
HVAC Drives
Industrial AC Drives
Industrial Robots
Integrated Solutions
iQpump Drives
Machine Controllers
Medium Voltage Drives
Robots with IEC
Sigma-5 Servo Products
Sigma-7 Servo Products
Spindle Products
FEATURED YASKAWA PRODUCTS
MACHINE AND MOTION CONTROL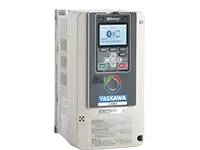 MPiec Controllers Series
The MPiec Series offers up to 62 axes of motion control in 6 controller variations while adhering to the IEC61131-3 and PLCopen global programming standards. The control variations are MP3200iec, MP3300iec, MP2310iec, MP2300Siec, MP2600iec and Sigma-7Siec.
SERVOPACKs
Sigma-7 SERVOPACKs are fully digital, networkable servo amplifiers that offer the output needed for precise, high-speed actuation of one or two axes of servo motor motion. The power options range from 30 watt to 15 kW with 100/200 and 400 VAC operation. 
Rotary Servo Motors
The Sigma-7 line of AC brushless rotary servo motors covers a full range of load requirement in both small and medium capacities. The advanced technology built into Sigma-7 sets a new industry standard for responsiveness, precision and long-term reliability. Each Sigma-7 motor is engineered to maximize compatibility with existing Sigma-5 motors in control electronics, electrical rating and mounting conventions. Sigma-7 motors can be equipped with matching gearheads to suit a wider range of speed or mechanical linkage requirements.
Linear Servo Motors
Yaskawa linear motors are directly coupled to the load, achieving high positioning accuracy and repeatability, with smooth motion up to 5 m/s. All Yaskawa linear motors are plug-and-play compatible with the Sigma-7 and Sigma-5 SERVOPACKS for best-in-class performance.
Direct Drive Servo Motors
Direct drive technology eliminates backlash, reduces the number of mechanical components, and provides a stiff mechanical system for highly dynamic applications.
GP Series
Experience faster cycle times, better space utilization, less downtime, and fast system integration with the GP Series. These robots are designed for fast-paced assembly, packaging, and general handling processes. They are optimal for speed, accuracy, and range of movement due to their sleek design that also offers body protection for longevity.
Improved acceleration/deceleration control for all robot positions allows for faster cycle times and increased axis speeds compared to previous generations. 
HC Series
Witness the flexible, safe, and easy-to-use HC Series cobots from Yaskawa Motorman. These cobots specialize in enhancing worker safety, optimizing production rates, and fast system integration with intuitive programming methods.
The HC Series cobots' smooth and robust construction reduces any pinch points. The external cables and risks they pose are eliminated by the through-arm utilities.
SG Series
The faster, cost-effective performance of the SG Series SCARA robots. They're known for their extremely fast and precise operations in small-part processing, making them ideal for applications requiring short cycle times. These SCARA robots are perfect for pick-and-place applications, assembly and sortation, and multi-process systems.
Expand your automated processes and check out the SG Series of SCARA robots.
Downloads
Videos
Technical Documents
| Title | Download Link |
| --- | --- |
| Linear Servo Motors – Yaskawa | |
| Machine Control Products – Yaskawa | |
| Sigma 7 Brochure – Yaskawa | |
| Smart Pendant Data Sheet – Yaskawa | |
| Yaskawa HC10DTP Brochure | |
| Yaskawa HC10DTP Brochure | |
| YRC1000micro Brochure – Yaskawa | |
| Title | Video Link |
| --- | --- |
| Yaskawa YouTube Channel | |
FILL OUT THE FORM TO
SPEAK WITH A Specialist TODAY
"*" indicates required fields
PUT YOUR AUTOMATION SOLUTION IN MOTION